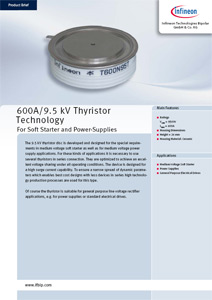 600A/9.5 kV Thyristor Technology
For Soft Starter and Power-Supplies
The 9.5 kV thyristor disc is developed and designed for the special requirements in medium voltage soft starter as well as for medium voltage power supply applications. For these kinds of applications it is necessary to use several thyristors in series connection.

They are optimized to achieve an excellent voltage sharing under all operating conditions. The device is designed for a high surge current capability. To ensure a narrow spread of dynamic parameters which enables best cost designs with less devices in series high technology production processes are used for this type.

Of course the thyristor is suitable for general purpose line voltage rectifier applications, e.g. for power supplies or standard electrical drives.